It all started with the first confinement and Matthew Burrows' idea. Of course I had noticed something about The Artist Support Pledge along the year but I didn't really pay attention. Until a friend from NYC sent me this article of the New York Times and asked me what the hell I could well be waiting for. That's when i realized it had gone big and global. And I understood why. Winston Churchill said "Never let a good crisis go to waste". Exactly what Matthew did. He launched a project that cannot work in normal times. Art market was sinking, all galleries closed, thousands of artists in really severe situation. Matthieu decided to act. Fast. Big. He launched "The Artist Support Pledge"with this simple little post, on march 15th 2020.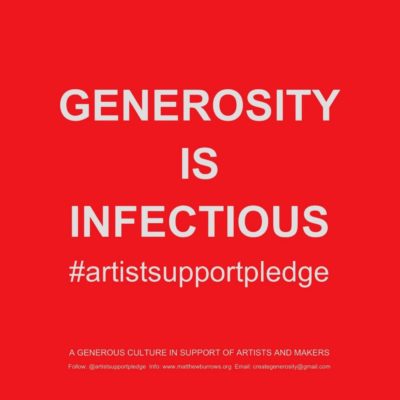 A simple idea based on trust and generosity. Just brilliant
Artists have to post a piece on Instagram at the maximum price of 200£ (or 200€, $200). Well below the normal average price of an original piece.They add the hashtag #artistsupportpledge . It makes them visible for art lovers who browse through that huge virtual catalog . More than half a million pieces to date! If someone wants to purchase a work, the buyer messages the artist directly. And the artists all pledge to spend £200 (or dollars or euros) on other works once they sell £1,000 of their own, to support fellow participants. Images of the artworks are posted for free, there is no selection process and no commission is charged on sales. So simple… which is why that went so big so fast.
I created the series "Dancing beneath the surface"
5 small paintings on paper 30x40cm. Inspired by an underwater video capture of my daughter which I cut in 5 consecutive shots, each following the previous one by half a second. Light and fluid as a dance move. I announced the project while posting the first painting of the series. The five sold out in 24h!!! Ok, Price tag was half of market value… but still!? I got messages from followers all over the world, so excited to be able to afford an original for the first time. The 5 little ones went to France, Greece, Australia and New-Zealand. But painting and selling them was just the first part of the game…

Then I followed through on the pledge I made
I actually didn't do things quite sequentially. I couldn't wait. I had chosen the artist and the piece I would buy even before finishing the series: Brigitte Yoshiko Pruchnow . An artist colleague at Saatchiart gallery. She is German-Japanese, based in Munich. She's got a unique touch for kids, pools and pies. We've been following each other for years. I now have an original piece of hers in my studio. Thank you Matthew!