Almost all my paintings are here. You will find more than 10 "collections" to scroll through. You can also choose to look only at the "available" or "sold" pieces. Once you have selected a piece, if you click on it again, you will see all the related images. Enjoy the visit !
You'd like to have a virtual visit of my studio?
You want to have a chat, or just enquire on a piece you love? Contact me via contact@antoinerenault.com first. Then we'll arrange a call. Looking forward to it :)!
You can also buy originals and prints via Saatchi art. This is the world leading gallery when it comes to buying contemporary art on line. I have been working with them since 2012. Wherever you might be ordering from on this lovely planet, Rebecca Wilson and her curators team deliver a perfect service.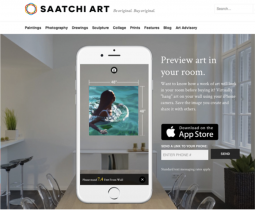 Visualize a painting on your own wall
Saatchi art has a very handy feature that helps you check how a painting you love could fit within your own space, at scale. Try it! That's a truly awesome tool.
My whole portfolio is archived on Behance and paintings can be seen by year of creation