Strange. This is the first time I've been tempted to paint a same subject twice in less than a year. It's also my first still life. And my first red painting. "Inspiration exists, but it has to find you working". Makes sense, like often with Picasso. Nothing in my usual work would lead me to painting this. Those mackerels made it to my easel quite by chance, thanks to my exodus sketchbook and regular drawing routine. I was actually surprised how much I enjoy painting them and I wanted to check if it would repeat. It did actually.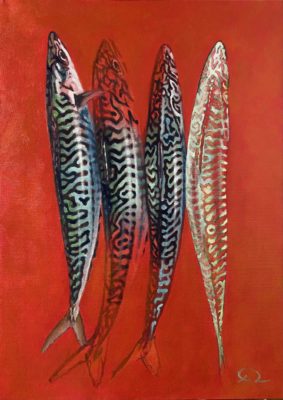 In order to make it more interesting in this second version, I chose to paint the first one on the right in a negative image of it, using the background red for the dark stripes. I realized that this skin design was working exactly the same in negative, which shows how great a design it is : patterns are always a bit different but always look alike. And if you reverse dark and light, they work the same.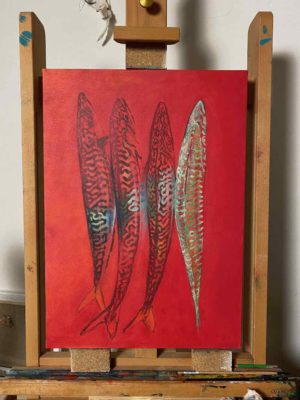 It's also a "strange" experience ("strange" being the root of the "stranger" word). As I was trying to reverse the image values, I'm actually getting to some sort of an albinos mackerel. It becomes the stranger in the team. Fear of difference is a topic i've been passionate about lately. That painting made an interesting connection. Main reason why man is scared by difference is that stranger actually looks much alike him, and reminds a part of him that he is not comfortable with. For those who are interested and speak good French, here is a great reading on the topic.