My stock of paintings made a stop in Paris between the summer expo in Noirmoutier and the autumn exhibition in Paris. Perfect opportunity to take part in a nice contemporary art fair in le Marais. The Halle des Blancs Manteaux: the former Parisian market of 1820 makes the ideal cocoon to house a selection of 70 artists.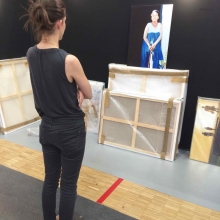 This weekend did not really have the prefect start: the car borrowed from a friend with my 20 canvases inside disappeared in 10′. The time to drink a glass of water and close the door of the apartment. That was 2h before the fair opening!!! Car had been towed away. It was recovered, with all canvases in it. and here we are good last on the starting line to install the stand. With enough time though before the opening for an intimate face-to-face between my dear cousin who was there to help me and her beloved grand mother portrait she was seeing for the first time. Three lovely days followed, filled with great connections and friends gatherings. A real pleasure to meet that many Italians, Americans,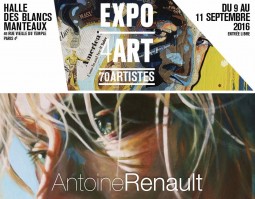 Londoners, Saudis within the crowd of Parisian amateurs… And as always in these salons, some unique encounters. Like the passage of this Lebanese collector: love at first sight with one of my paintings… which was unfortunately already sold. "Drinks are on me!" she said to recover from her disappointment. And that was champagne for all the visitors of my booth :). There are moments like that.