During my last Greek summer, I got a call from Above Art who wanted to make an interview. Here is what we discussed in English. And there is the original transcription into Russian.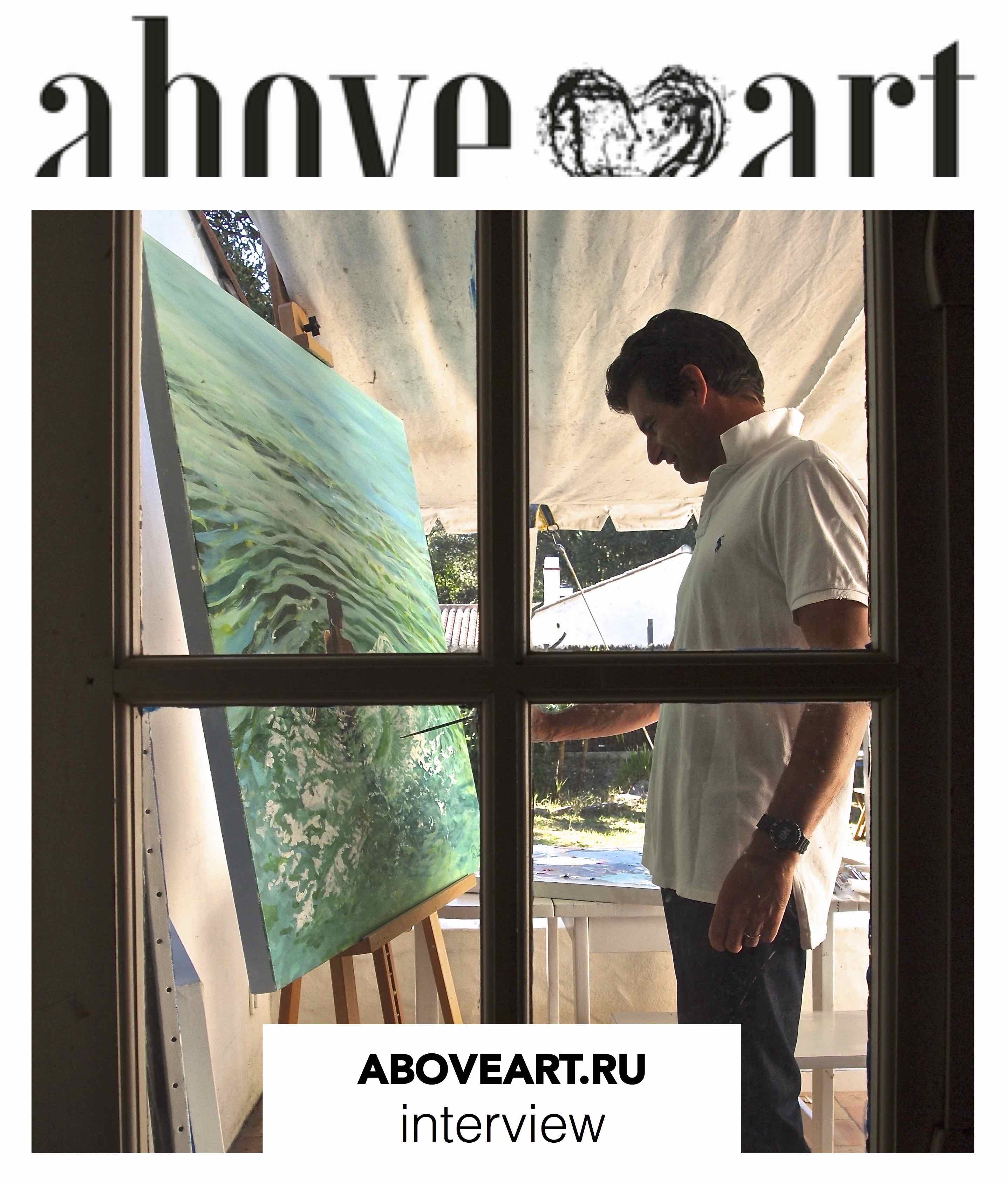 Few words about yourself…
I was born in Nantes, France in 1963, in a family of 5. Two of my sisters are painters today. My dad's mother and my mum's father were painters. My mum always stimulated our drawing activity and kept all the drawings we werer making. Each and every summer, we would spend it on Noirmoutier island. The sea side life on the island became my natural heaven. All my best memories are there, and I'm still going to the exact same place every summer today. My initiation as a painter and most of my inspiration comes from that place
Tell us a bit about your journey into art?
My GrandMa started to paint at the age of 70. She was painting all the time. I was sailing all the time. Then we had a beautiful summer with absolutely no wind. I was seriously desperate about it which made everyone nervous. My Grandma asked me to keep calm and get busy with some painting activity with her, on the dune. She gave my a canvas and a brush and there I was, doing my first painting at the age of 30.
During 15 years, I tried various media. Oil, pastel, watercolours. I progressively improved my technique, doing less than 5 pieces a year. Learning to see the shadows. Then the colours of the shadows, focusing on the light.
In 2011, my elder sister wanted to set-up an exhibition on the island and invited me into the project. That's really when I started to accelerate progress. I did 20 large size paintings in 6 months. The show went extremely well. I sold a lot right away. And I loved the experience so much that I was hooked. I could not stop. From then on, I never stop to paint actively, between 10 and 20 pieces a year
If you could sum up your thoughts on the work that you do in one sentence, what would you say?
Ocean paintings that reflect moements of plenitude
 Would you say your style has evolved over the years?
Yes. The style has become more realistic. The subjects have moved from still life and landscapes to a very ocean-centric universe in 2011. Then I moved underwater, influenced by photographer Mark Tipple's «underwater project» and by painter Eric Zener. Then the woman figure and portraits became more present. I rarely paint a canvas without a figure in it today.
How do you keep your artistic voice unique to you?
I believe 3 things help in that respect:
1/I am a self-taught artistI, which carries lots of imperfections but definitely helps to keep your technique personal.
2/ I have a fascination for water, reflections and transparencie and as always, when you are passionate about one single theme area, you end up developping a distinctive voice.
3/ I have always been a very active photographer: I never stop observing and composing images. I think it has quite some influence on how I choose my subjects and frame them.
 What challenges have you faced while creating?
Any painting brings me challenges and that's what I love: I have an objective in mind. I have no idea how I will really achieve it. It's always an unexpected path, that actually brings me at the end to something different from what I thought .
Overall, managing to understand how water works visually was the main challenge.
 Could you tell us little bit about creating process?
I always start from a photography for inspiration. I used to draw the main lines before painting the canvas. Now I directly paint them on the canvas. After which I have a second phase where I implement the values, usually starting with the shadows. Then comes the longer phase when I get step by step closer to the desired image. Then comes a moment when an inner voice tells me «stop it now!». This moment is not very predictable. It happens that I start a painting session and believe I will probably need five more… and this session is actually where it ends.
 How much time it takes to make one artwork?
20 years of practice, plus between 10 and 30 hours per piece.
 You works are very reallistic, do you use any special equipments or tools in your work?
The single killer tool for realism is your eye. Constant observation ends up bringing you closer and closer to reality. And then the game is about taking some distance and bringing interpretation into the game.
I work with a very basic equipment: I narrowed down my palette to 4 colours only + a white. There is no black in any of my paintings. I use Amsterdam acrylics. I paint with brushes and fingers.
 People on your pictures are real?
Yes they are. I know their persanality and how they move. It impacts the way I paint them.
 Who is your favorite artists at the moment ?
I don't have one single favorite artist. If you check my Instagram account, you will see that I follow many painters and photographers. They all bring some influence. I discovered Edward Hopper and Winslow Homer when I was living in NYC. They both had quite some influence on my inspiration.
 What are your plans for the future? Do you have any upcoming projects?
Painting. Again and again.
I will have a show in Paris end of September.
I am currently in Greece, seeking inspiration for my next project. Not decided exactly what it will be yet but there will be transparent waters and beautiful muses in it.
 Do you have any advice for aspiring artists?
Show and share your work as much as you can. Having unknown people giving positive feedbacks on your work provides an amazing energy. Don't hide. Don't be afraid of being copied. Just show and share and enjoy the conversation!
Doing art fairs is also a great way to identify what is distinctive about your art. Finding the intersection between what makes your work distinctive and what you love to paint is absolutely critical: this is the sweetspot that guarantees constant inspiration and good response from your audience, hence more positive energy and inspiration…