240g is the new russian "Behance", launched by a group of fast and talented founders. They offered me my first interview in a language I cannot read. I'm pretty sure that what is written there is consistent with the nice discussion I had with a charming Elena Kurdyumova. In case that helps, here below is what I can guess, combining the memory of our conversation and some Google translate help ;).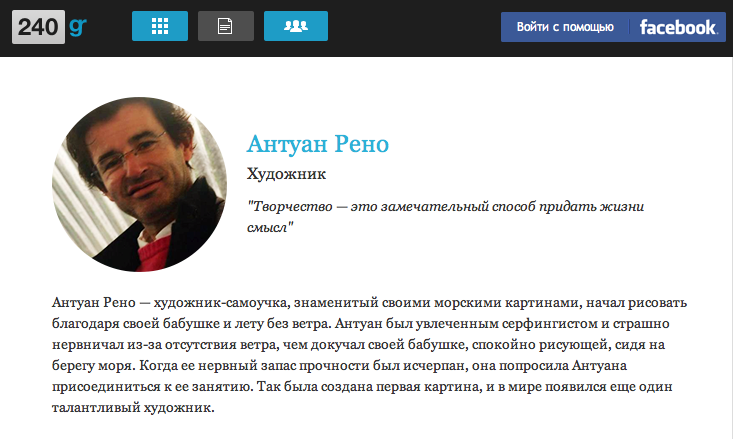 – How did you reach the place you are now in life? What were the strongest ups and downs?
I reached this place by chance… No serious down to be honest. I have been lucky enough to live 2 years in NYC and 3 in Barcelona. Those were 2 ups. Specially NYC : This is actually where I received most of my visual shocks. I was living in SoHo, working uptown, and was a passionate photographer at that time. An amazing Van Gogh expo in 1987 at the Met left me speechless. Repeated visits at the MOMA, the Long Island work of Hopper, the wonderful watercolours of Winslow Homer became my first references. Twenty years later, I came back to NYC. I had been painting for some years. I had a new visual chock at the Henoch gallery in Chelsea, NYC with an Eric Zener exhibition. I knew I would try one day to paint such kind of amazing underwater feelings.
– Where do you live? What do you like about it the most?
I live in Gif-sur-Yvette. A small village 30' South of Paris. What I like most there is to be in the countryside. I can see the fields up to the horizon from my studio. But the place where I prefer to be is Noirmoutier, my beloved island where I also have a tiny oceanside studio.
-How did you find your style? How do you improve it?
I started to paint at the age of 30 thanks to my GrandMa and to a summer with no wind. I produced only 2/3 small pieces a year during 15 years. In 2011, my elder sister -who is also a painter- wanted to apply for a duo exhibition in Noirmoutier. Our project was accepted. I suddenly had to paint 20 canvas of 1m2 in 6 months. This unexpected event pushed me to chose a creative theme, and forced me into a natural weekly pace of finding inspiration and painting. This is how I started to focus on « ocean paintings » and when I started to find this style.
To improve it, I just paint as much as I can. And I make sure I always have enough inspiring images in stock to feed that impatience to paint. I build that stock through travel photography –my last stay in the beautiful island of Amorgos (Greece) was a fantatstic source of inspiration !-. I also like to try challenging projects, partnering with ocean photographers I admire like Mark Tipple or Morgan Maasen.
– How do you think, what are the most important things in life?
I think with my right brain ;). Most important things in life are love, pleasure, action and connections. Better live with remorse than regrets (Oscar Wilde)
– What tools do you use to create your art?
Brushes and fingers. I paint with acrylic , and eventually reduced my palette to the most simple set of colours : 3 primary colours + yellow ochre, black and white
– Do you draw traditionally? What do you think about digital art?
Yes I draw traditionally. I think I will try digital art very soon.
– Your favorite part of creative process?
I actually have 3 favorite moments :
1/ Light : when I paint a dark shade or a white reflection and suddenly the light blows up in the canvas.
2/ Love : when I know I will love what I was just painting. I often make pictures with my phone. That helps me to take some distance and to see if the creation works. I can tell right away if that is a good one 😉
3/ Connection : when someone in my family, a follower or a collector finds personal words to explain what they feel in front of it.
– Would you like your children to be artists and why?
Sure I would. Simply because creation is a fantastic way to give some purpose to one's life. My first son is a young and promising film director. He is also an excellent singer and might soon publish his first record. My second son is a talented painter and brilliant photographer. He actually just started quite an artistic carreer as a ship carpenter : working on traditional yachting masterpieces requires constant creativity. My daughter might become a scientist but she would also do a perfect writer… we will see. In the meantime, she is my favourite muse !
– How did you celebrate X-mas?
With my family, and very close to the ocean J
– How do you relax?
With my family and friends, painting, listening or playing music, sailing, …
– Do you like to take part in exhibitions? Why?
Yes I do. Because that stimulates personal work and always generate interesting conversations and great connections. Having a visitor staying stuck in front of one of your pieces for half an hour is a fascinating experience. Listening to the comments is the only good way to understand what your style mean to people. This is how you know if you have a public for your art…
– You're self-taught artist, do you feel the lack of education?
I feel it as an opportunity to feel free J. As I have no idea what the academic way should be, I just do it my way. Thus, that contributes to a personal style.
– Tell us, please, the story of your best work.
I think this is « Diafaneia ». One of my very last ones. When I took the bunch of pictures that inspired this painting, I knew I would enjoy a lot working something from it. This was a magic moment with my daughter, during this summer trip in Greece, in the morning light of a desert beach in Amorgos. I painted it in my oceanside studio in november. I had no big enough canvas on the spot, so I used an old painting which I did not like and created this painting on top of it. I knew when I got it finished that this creation would generate some more of that kind J. It was sold less than a month afterwards to a collector in Florida, USA. I think that is the first time I was a bit sad to see a canvas fly away so fast.
– Any unusual talents or hobbies like tying a cherry stem with your tongue or metallurgy?
I can ride a skateboard doing a handstand J